guarantee heat efficiency 90%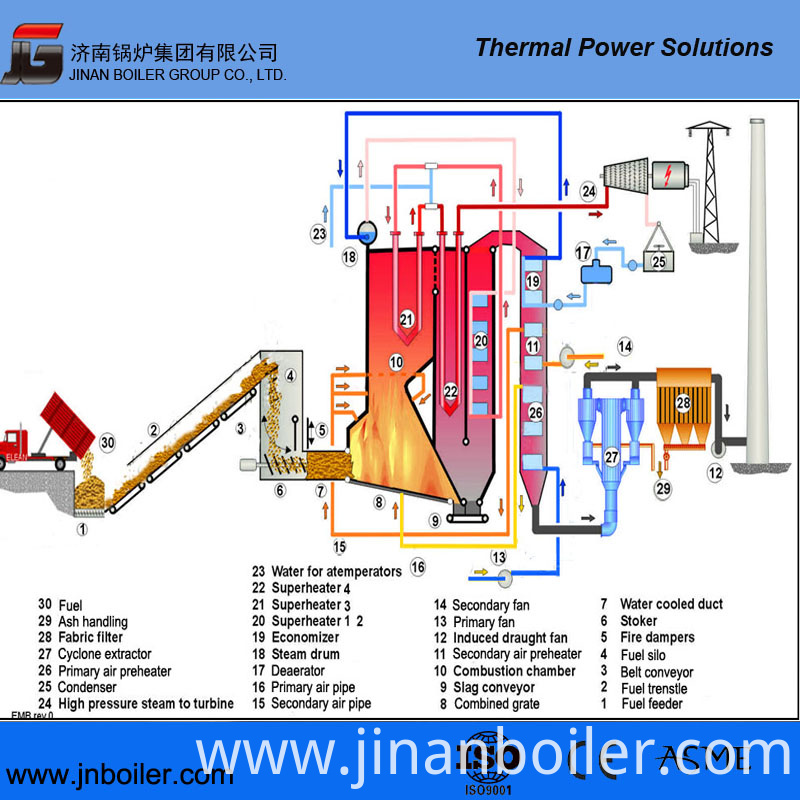 Other Product series
No.

Boiler Model

Capacity, t/h

Steam pressure,Mpa

Steam Temperature,

ºC

No.

Boiler Model

Capacity, t/h

Steam pressure,Mpa

Steam Temperature,

ºC

1

YG-240/9.8-T

240

9.8

540

21

YG-95/5.29-T

95

5.29

485

2

YG-240/5.29-T

240

5.29

485

22

YG-95/3.82-T

95

3.82

450

3

YG-240/3.82-T

240

3.82

450

23

YG-85/9.8-T

85

9.8

540

4

YG-220/9.8-T

220

9.8

540

24

YG-85/5.29-T

85

5.29

485

5

YG-220/5.29-T

220

5.29

485

25

YG-85/3.82-T

85

3.82

450

6

YG-220/6.4-T

220

6.4

455

26

YG-75/9.8-T2

75

9.8

450

7

YG-220/3.82-T

220

3.82

450

27

YG-75/9.2-T

48

9.2

540

8

YG-170/9.8-T

170

9.8

540

28

YG-75/5.29-T

75

5.29

485

9

YG-170/5.29-T

170

5.29

450

29

YG-75/3.82-T

75

3.82

450

10

YG-170/3.82-T

170

3.82

450

30

YG-65/9.8-T

65

9.8

540

11

YG-150/9.8-T

150

9.8

540

31

YG-65/5.29-T

65

5.29

485

12

YG-150/5.29-T

150

5.29

540

32

YG-65/3.82-T

65

3.82

450

13

YG-150/3.82-T

150

3.82

450

33

YG-50/5.29-T

50

5.29

485

14

YG-130/11.5-T

130

11.5

535

34

YG-50/3.82-T

50

3.82

450

15

YG-130/9.8-T

130

9.8

540

35

YG-48/9.2-T

48

9.2

540

16

YG-130/9.8-T1

130

9.8

540

36

YG-45/5.29-T

45

5.29

485

17

YG-130/9.2-T

130

9.8

540

37

YG-45/3.82-T

45

3.82

450

18

YG-130/5.29-T

130

5.29

485

38

YG-35/5.29-T

35

5.29

450

19

YG-130/3.82-T

130

3.82

450

39

YG-35/3.82-T

35

3.82

450

20

YG-95/9.8-T

95

9.8

540











3. Biomass boiler types and features:
Boiler Type

Features

combined grate

1. stepped and travelling grate
2. better adjustment performance
3. suitable for high moisture
4. suitable for a variety of fuels

circulating fluidized bed

1. suitable for hard fuel
2. high combustion efficiency
3. stable operation control
4. wide load control range

water cooling vibrating grate

1. techonology from Europe
2. directional combustion
3. suitable for single fuel
4. high combustion efficiency
4. Biomass boiler burning fuel:
*Agriculture waste:
wheat straw, corn straw, cotton, peanut straw, rice straw, sugarcane leaves, rice husk, peanut shells, corn cob, bagasse, palm fiber, palm shell, empty fruit bunch(EFB)
*Forest waste:
Wood piece, wood chip, sawdust, wood branch, bark, leaves, green mud etc.
*Industial waste:
Cloth, paper, rubber, plastics, leather, sludge, medical waste etc.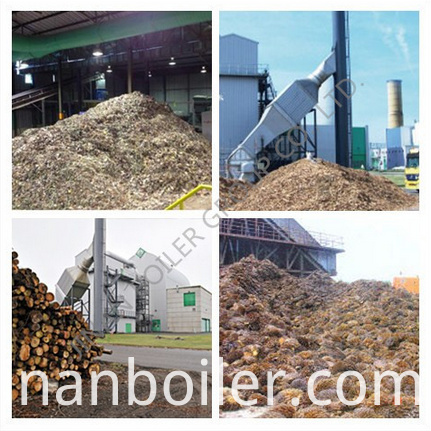 5. Company introduction:
Established in 1954, Jinan Boiler Group Co., Ltd. ( Hereinafter called "JBG" ) is a large backbone company that manufactures Grade "A" power boilers and industrial boilers in China, and is also one of the leading companies for CFB boiler and biomass boilers. With the total asset value being over RMB 2 billion, JBG has 1300 employees, including 300 engineering technical staff. Located in the famous historical and cultural city -Jinan, the capital of Shandong Province, which is called "City of Springs''
Majoring in the manufacture of power boilers and industrial boilers, JBG integrates the research & design, manufacture, auxiliaries supply, installation, maintenance, alteration, Power Plant EPC, environmental project EPC and technology consultation, and tries to step over from a single boiler supplier to an EPC contractor.
Adhering to the business principle "dedicating clean energy, making green products, improving economic benefit and building harmonious enterprise", JBG develops the first circulating fluidized bed power boiler in China, introduces and digests the 100% biomass power boiler technology and manufactures the first 30MW biomass power boiler in China. Now, JBG has grown up to be a globally-known CFB (Circulating Fluidized Bed) boiler research base and the largest Biomass Fired Boiler manufacture base, and JBG is one of high-tech enterprises in Shandong Provence and recognized as an experimental base by the Thermophysics Institute of China Academy of Science. JBG positively follows the low carbon economy trend and development of new energy industry and vigorously develops CFB boilers, biomass power boilers etc. for energy conservation and environmental protection. Now, JBG has developed more than 10 series and 100 types of products including CFB boilers, biomass boilers, pulverized-coal fired boilers, hot water boilers, waste heat recovery boilers, chemical recovery boilers, oil/gas fired boilers, waste incineration boilers, De-Sox & De-NOx products and pressure vessels etc.. The products are popular in China and exported to many countries, including Japan, Belgium, Singapore, Indonesia, Malaysia, Thailand, Pakistan, India, Viet Nam, Cambodia, Mongolia, Nigeria, Rwanda etc.